Let's face it. We all know that in the B2B industry, it is all about having a consistent flow of leads. Sure, there are many approaches for this and most B2B companies will automatically go towards outbound with a sales and prospecting team.
The problem with that is that you and your team are still grinding it out. Every day your team is going out there "fishing" for leads, praying for one to respond.
But think outside the box, what if you could put your B2B lead generation on auto-pilot? 
We're talking about leads coming to you, not you chasing them.
This is where the power of content marketing kicks in. 
Your most likely overwhelmed by people who offer your leads as well. They're offering you something like 2,000 leads for $300. In actuality, what you'll be receiving is a list of email addresses and first names they manage to scrape together from Linkedin. 
So how do you improve your game and drive for superior B2B leads?
First of all, we'll need to define what a "lead" is in the B2B, afterward we'll discuss how to get more of them. 
Explaining B2B leads
When it comes to the B2B industry, everyone is always discussion "leads" and trying to sell them to you, but what exactly is a lead?
Leads come at three levels you should be aware of:
Opportunity lead: This is usually just an email and name and sometimes something else.
Marketing Qualified Lead (MQL): This is when they have taken specific steps on your site such as viewing specific pages and downloading content.
Sales Qualified Lead (SQL): When someone has been contacted by a salesperson and verified to be an actual potential customer. 
B2B leads come in many forms:
Physical form: similar to a business card that you then insert into your CRM and then follow up with.
Email address: Either for a piece of content or directly to contact you. 
Direct phone call: If the option is offered on your website.
As B2B marketer's we'll discuss leads, but what we really should chat about are MQLs and SQLs. These are the real money maker for us, while those that do not become customers are simply taking up space on the email list. 
You can argue that they'll eventually become an actual MQL someday, or that they could refer a friend to you, but in reality, if they are not making a purchase, then they are not your customer. While it's not highly encouraged for you to remove them from your list unless in extreme circumstances, but you do need to concentrate your time on three objectives. 
Transfering subscribers from being a subscriber into an MQL.
Converting more MQLs into SQLs and then locking them down into customers.
Securing even more subscribers who are ready to become MQLs followed by SQLs.
Don't allow yourself to become trapped in the optimization of minimal traffic just to gain 1 more lead. For most companies, the highest leverage thing you can pull off is to gain more traffic that can then be optimized and turn into subscribers followed by MQLs to SQLs. 
Getting more MQLs
Gaining more marketing qualified leads is the main objective, so how do you pull this off?
Strategies have been made by plenty of people over the years and have shown real results for many businesses. Keep in mind that the most effective strategy for generating more leads involves the full marketing funnel. Simply integrated one or two of these without a view for measuring and optimizing your conversation flow will mean that you do not gain the results that you possibly could. 
Here are some tactics you can use to garner even more MQLs using content marketing.
Boost your keyword spread and traffic
If you're having trouble gathering enough leads, then the first place you should take a look at is your traffic. How well you manage to rank for the terms you are optimizing towards SEO, and how effective are the paid marketing campaigns in attracting qualified users to your site?
Utilizing tools such as SEMrush, you can type in your domain and see the keywords your website ranks for as well as the position and monthly search volume. By using their Keyword Gap tool to compare your website against a competitor's, you'll be able to discover more keywords that you should be aiming for with specific pages or content. 
You can also use other tools such as SimilarWeb to gain a better understanding of where your competitors are getting their potentially converting traffic as well. 
This should help you put together a plan to execute and create that content and those links and those relationships that will help you generate even more traffic.  
Build content upgrades on your popular content
The next steps towards converting your newly gained audience to the initial leads (not MQL yet) is by offering them something of actual value that allows them to take their newly gained knowledge further. 
We're not talking about a "get our weekly newsletter" call to action button here. Nobody wants to waste time signing up for those. Instead, offer them something of great value that answers their questions. A great way to leverage things is by going to Google Analytics and find the content that's gained the most traffic. Then, search for the ones that do not have a tailored call to action for them. This is the opportunity you've been looking for. 
Place them in a spreadsheet and label their topic, for the next column defines the piece of content that you can build in under an hour. 
During the coming few days, take an hour each day to develop that piece of content. It doesn't have to be formatted or designed amazingly well, but make sure it's completed in an hour. Afterward, save it as a PDF, place it somewhere that it can be downloaded from, such as Dropbox, and apply an email capture. 
Don't overthink whether you should integrate it as a slider, a layover, or a welcome mat. Using a tool such as Sumo for WordPress, you can make these changes seamlessly. What's really important is applying something so that you can establish a base and expand from there.
Publish Evergreen content
Evergreen content is search-optimized content that is continually relevant and stays "fresh" for readers over a long period of time – as the name implies. You may think that all online content is sustainable; after all, a blog post doesn't just disappear after you publish it. But evergreen content is different. It continues to be relevant long past its publication date, with search traffic growing over time.
We're talking about long-form educational content that Google will trust for long periods of time and require minimum updates.
We're talking about content that will help you build trust with your audience. 
Evergreen content comes in many forms, but in order for someone to trust your product and service, you'll need a good amount of them.
Google is doing search better and better every day. That's why you should spend a lot more time crafting good content than trying to hack their algorithms and rank well with your bad content.
Integrate email captures
Another great strategy for acquiring new email addresses is to aim for those on your conversion pages who is staying there for a longer period of time. You can apply a layover that helps them gather even more information so they can feel confident when it comes to contact you or someone on the site.
Here's how this works on a psychological level.
If a person is spending a greater amount of time on your page than average, then they are highly engaged, but likely have questions left unanswered, thus the are reading longer. If you're capable of providing them with sources that can give them answers to their questions (most likely one of your most asked questions) and at the same time gain their email address, this can be considered a win for your company. 
You can pull this off on your conversion pages and informational pages to help the reader dive deeper. You are most likely fully aware of your conversion and informational pages, but are you aware of the average time on those pages?
Use Google Analytics, then set your upgrade to happen around ⅔ of the way through that. If that slows your conversion, then move it to equal with the average time on the page. Simply continue to adjust until it improves your funnel.  
Apply lead scoring based
Once you've managed to successfully apply the above three, or are still developing them to improve the volume and efficiency, you'll be generating email addresses and contacts like no tomorrow. 
It's possible that you'll reach a point where you're too busy and can't handle any more business, which means you'll need to hire or improve the process to hand all of those leads. 
So what now?
A while ago, I came to the realization that I was gaining 500-700 new email address each month. While great, they were simply piping into my CRM and my ESP and I wasn't doing much with them beyond automated drip email followups. 
There was no personal note and I wasn't keeping watch on when someone had also looked at pricing or conversion pages but didn't convert. 
Here are three things I decided to do:
I began lead scoring within my ESP to alert me when an email subscriber performed certain actions and was assigned a score above a threshold, which then labeled them as an MQL.
I started piping those MQLS into Slack with the help of Zapier, so I would see them as they popped up. 
Hired a skilled Sales Development Representative (SDR) to personally deal with those MQLs.
This move helped me out greatly. Lead scoring allows a person to define what actions a user is taking and a numeric score is applied to them. Once they've pulled off those specific actions, they are labeled an MQL and get an email.
Use forms to widen your funnel. 
Using forms for conversion can help widen your funnel even further. With the answers you manage to gather with these forms, you can send the person towards different areas to do something. 
Some of them can be asked to schedule a call, others can be asked to provide more detailed information, and others will be turned down due to not being able to help them for some reason (possibly due to not serving the location they currently reside).
By altering the amount of information asked upfront as well as including trust signals, you'll be able to increase the number of forms submits to level you've never thought possible.
Explain your offer with video
One thing many businesses have done widely is utilizing video to explain what their company is offering. This can be done through your homepage just like every other company or even within your conversion funnel on your video pitch. Some websites such as InDinero have used video on their homepage to improve their conversion rate. They manage to gain double the amount of conversions by using a video on their homepage. 
Direct targeted paid traffic
Once you've successfully implemented your content upgrade in place and have improved the conversion rates with better forms and video, you may set to do some targeted paid advertising through channels such as Facebook or Quora to generate email signups that you can then warm up and turn into MQLs and then SQLs.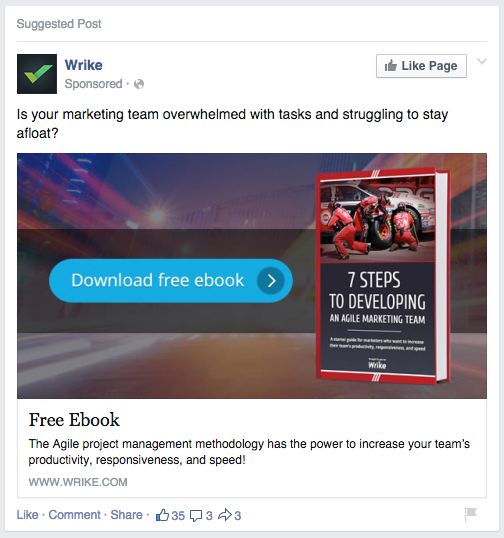 This strategy all comes down to email drips and improving segmentation of your list automatically based on user interaction with your content and website, but it can lead towards some massive returns once you pull it off. 
Too many B2B companies focus their ad spend on the product/service itself. This works well for retargeting type of ads, but another great way to leverage paid acquisition is by running ads on high-quality content.
Ads that convert well are targeted ads towards e-books, white papers, long-form education copy, and more.
The takeaway
If your company doesn't have a content marketing strategy and execution plan in place, then you're missing out on a lot of lead generation opportunities. Content should go hand to hand with sales and overall marketing in general.
Good content can be reused in the nurture funnel as well as a solid resource for your sales team when they hop on sales calls.
If you're looking to build a solid content marketing foundation to drive more B2B sales leads, then get in touch with us. We'll take good care of you with a result-driven approach!